Metro Stars Gymnastics To Open Third Location in Omaha Metro Area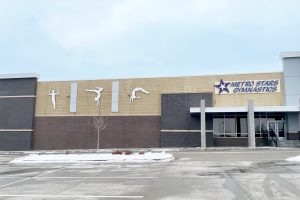 After navigating a global pandemic that closed their businesses for months, Metro Stars Gymnastics is opening a third Omaha area location, building upon a loyal client base and a growing interest in the sport of gymnastics. Owners Elizabeth and Erik Lilla, Papillion natives, will host a ribbon cutting at their newest location at 14925 Evans Plaza on Sunday, February 26 at 2:30 pm.
"We're really looking forward to sharing this facility with a whole new segment of the Omaha community!" said co-owner Erik Lilla. "From the beginning our goal has been to create opportunities for both athletes and coaches to enjoy the sport of gymnastics, and the Maple Street location allows us to do more of that."
The new Metro Stars location is open for classes for hundreds of gymnasts each week, creating an additional 15-20 jobs for the Omaha area. Within the first hour of online enrollment, 100 families had already signed up for classes at the new location.
The Lillas founded Metro Stars Gymnastics with one location in 2006, later building two new facilities to se
rve families. In March of 2022, Metro Stars' current locations in Papillion and Elkhorn were forced to close for several months due to the Covid-19 pandemic. The Lillas continued to pay their full-time employees out of their personal savings, and began offering gymnastics courses for families online, hoping to keep their current clientele once restrictions were lifted.
"Although we couldn't be together in the gym, keeping our community together was important to us," said Lilla. "We set out to foster relationships through our online classes, social media interactions, and dai
ly online huddles. I think we were successful in making connections so that when we could finally get together in person everyone was very excited!"
Since reopening both Metro Stars locations, class enrollment numbers have increased dramatically due to Metro Stars' focus on fostering healthy athletes and technique, dedication to community, and a growing interest in gymnastics in Nebraska and the Midwest. Two Nebraska gymnasts, Jordan Bowers and Lexi Zeiss, have competed internationally in recent years, and the University of Nebraska Women's Gymnastics Team continues to find success in Division 1 with 30 postseason appearances and three NCAA individual champions.
"As a parent I know how important it is to have resources available in your community," said Lilla. "We are so excited to bring gymnastics to another part of the Omaha Metro area. We can't wait to serve our students and their families."
The new Metro Stars location opened to students and families earlier this month. The ribbon cutting and grand opening of Metro Stars-Maple at will include special appearances from Miss Omaha Francesca Stessman and Miss Douglas County Alayna Wilson, in addition to current students and their families.