The Lillas Appear on Killer Family Business Podcast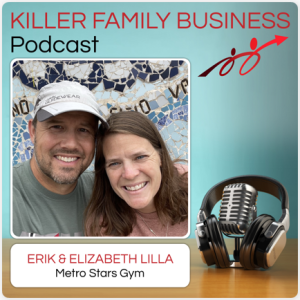 When you hear the words "Family Business" what comes to mind for you?
For some people it may conjure thoughts of multiple generations harmoniously working together to build an incredible company that serves their beloved customers and the community at large. For others perhaps you imagine a wizened old patriarch leading his bickering children with an iron fist to maximize his own power, influence, and pocket book. The reality of course, lies somewhere in between!
Our friend, Stephen Shortt, had the pleasure of growing up in a multi-generational business, where he fondly describes the dining room table of his youth as the "board room." Every evening, whether he wanted it or not, young Stephen was exposed to all the ins and outs of his family's language school located in Dublin, Ireland. Stephen eventually ended up taking over the family business, and in the process got an education on the dynamics involved in that transition.
Today Stephen helps other Entrepreneurs navigate the interpersonal challenges within their own family businesses, and one way he does that is through his podcast – The Killer Family Business Podcast. Liz and I recently had the opportunity to chat with Stephen about our experiences working together at Metro Stars Gymnastics as husband and wife, and how we go about managing that dynamic. Check out the Killer Family Business Podcast to learn more!